Digital technologies for a smart and sustainable city
Event postponed, Montrouge, 2022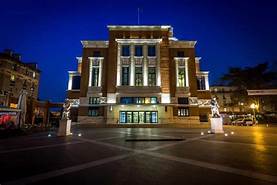 January 4th, 2022
Due to the Covid pandemic, the event planned in Montrouge is postponed.
Sorry for the inconvenience.
Eg4U will inform you soon of the next event agenda.
Cancelled event.
=-=-=
The digital of tomorrow will have to be invisible, inclusive and sustainable.
What are the main digital, efficient and eco-responsible innovations in local authorities?
What are the priorities of the Greater Paris Metropolis?
What are the possible global indicators for smart cities? (cf. Bordeaux, City of Montrouge)?
How to deploy video protection on smart wireless networks? …
This seminar is to be the first of a European roadshow organized by the NGO eG4U (e-Green for Users) with ETSI, European standardization organization (in Sophia-Antipolis) and the Eurocities association. This event is to be co-organized by the city of Montrouge at the Palais des Congrès « Beffroi », in partnership with the Métropole du Grand Paris organization.
During two half-days, a series of presentations and an exhibition will take place, bringing together stands presenting innovative services for « smart cities« .
About twenty speakers will follow one another at the forum, to detail various digital, efficient and eco-responsible innovations at the service of communities.
This forum will be open to anyone interested in local authority development or equipment projects, with environmental concerns (energy consumption, sustainability).